News Doug Theis on 05 Sep 2017 06:00 pm
Team Ragged Glory loves the IndyQuest Adventure Race. We've participated in this urban adventure for over a decade, and it's one of our favorites. We had planned on fielding two teams of two, but our teammate Bobby Bruton from Cali had to cancel. We consolidated down to a single coed team of three: Nancy Gawrys, Cheryl O'Dore, and me, Doug Theis.
The weather on Saturday, August 4 was nearly perfect; sunny, cool, and some cloud cover. The three of us showed up early at Opti Park in Broad Ripple, which was the start/finish line. We received maps and race directions at 6:30 AM. We reviewed the course layout and timetable. It was laid out as follows:
The race would start at 8:00 AM.
The course was divided into two loops, and before the first loop there would be a mystery start. The first loop was a 15-mile bike ride from Broad Ripple that took us south on the Monon Trail, then downtown to the statehouse, Crown Hill Cemetery, Rocky Ripple for an out-and-back canoe paddle, then the Riviera Swim Club, then back to the start finish line. All checkpoints had to be visited in order. Race directions only included first loop details.
There would be an on-foot navigation section between the first and second loop, most likely in Broad Ripple village. We would receive the on-foot navigation map once we finished the first loop, then the second loop instructions after the navigation section.
Based on the checkpoint locations on the map, we knew that the second loop also started by going south on the Monon, then East on 34th St to Emerson Avenue, back up to 56th St, then back to the finish line.
The horn sounded at 8 AM. The mystery start was a half mile jaunt on foot across the Monon White River bridge then a wade in Williams Creek to pick up our passports, the paper grid where we punched at each checkpoint to prove we completed the course. This was the first of five water events in the race; Directors Jay Newlin and Jerry Lyons made sure we were wet early and often. Using our race packet-supplied picture of a rubber duck with specific clothing, we found our actual rubber duck from a pile in Marott Park, checked in with the volunteer, and picked up our passport. Back to the start, we climbed on the bikes and started the first loop.
The first loop included many of the fun special tests that are the hallmark of IndyQuest:
An army crawl under netting in South Broad Ripple
A checkpoint under the Monon Trail bridge in Fall Creek
Another 100 meter long wade that was up to our chests in Fall Creek
Throwing darts and a board and hitting two matching pictures
A crayon rubbing of the dedication date for the Hendricks statue at the statehouse
A billiard ball carry between two pipes and then placement on a pvc pipe balance
A drink of beer or water at 2Deep Brewery
Find a number painted on the road just outside of Crown Hill Cemetery
A two-mile paddle on White River in Rocky Ripple
Wrist rocket sling shots to beak a ceramic tile strung on a line.
A 2 meter jump in the diving tank at the Rivi into a loop made of two pool noodles,held in place by a teammate
Diving for pre 1970 pennies in the 6 foot lane pool
Shuffleboard – complete 30 points at the Rivi
After arriving back at the start/finish, the volunteers told us we were in the lead. We received a map of the navigation section, a 1.5-mile loop on foot of five checkpoints in Broad Ripple village. We finished the foot loop and returned to the start/finish, where we received race directions for the second loop. That loop was a 10-mile ride that included more special tests:
Knocking down a hinged "stop" sign with a sand bag at Opti Park
Completing a tic tac toe with bean bags on 9-hole box at a cornhole court at Canterbury Park
Playing a full disc golf hole at Washington Park
Moving a pool rope buoy from one end of a 50-foot rope that was wrapped and twisted around a children's playground
Another creek slog upstream in Fall Creek at 56th St.
Completing a 3D tetrahedron puzzle made from six golf-ball clusters of differing shapes and sizes
Counting the concrete benches in front of Eastwood Middle School
Because the second loop checkpoints could be completed in any order, we weren't sure if we were still in first place. We arrived at Opti Park, completing the course in just under five hours. Jay, the Race Director told us we were first place overall! The second place overall team Jambs finished 15 minutes later, followed by the rest of the teams.
A steady pace, good map planning and quick transitions in the special tests were our keys to winning first place. We found out later that we were the second oldest team in the race, second only to our friends Shrimp Cocktail. Age and guile beat youth and speed! Thanks to Jay, Jerry and all the race volunteers for making this event happen year after year.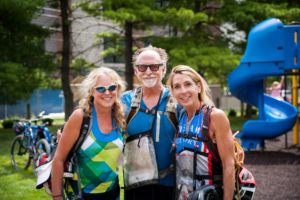 Leave a Reply