News &Race Reports Doug Theis on 15 May 2016 05:32 pm
The Dino Series Mission Adventure Race is among the longest running adventure races in the Midwest. Eric Henricks, Nancy Gawrys, and I (Doug Theis) participated in the Mission Lite four hour race on May 14, 2016 at Lieber State Recreation Area near Cloverdale. Here's the story of our race.
Teams received maps at 6:30 AM. We copied the race checkpoints from master maps. Our points looked like this: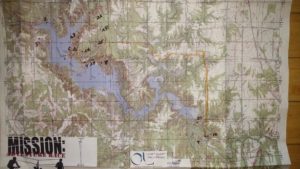 At 7:30 AM, we attended the race meeting. Brian Holzhauzen, Race Director, told us we would be completing the race in segments, and we would only receive race instructions one segment at a time. The race would be four hours long and start at 8:00 AM. We would collect as many points as we could, and return to the start line at or before the four hour mark. Every minute late would cost one point. Each segment would have to be completed, gathering as many points as possible before going on to the next segment. Our first segment would be a biking section, which turned out to be about 22 miles. Here's the instructions for the bike segment:

The diagram on the bike segment race instructions showed more detail on the three points on the lower right corner of the larger map.
We started fast and got off on the wrong trail for a few minutes, but corrected the problem and started collecting points on our passport. Nancy slipped jumping a log and fell on her cracked ribs, but continued on. About 25 minutes in to the bike leg, my rear bike tire popped, and went immediately flat. We stopped and changed the tube, but found this: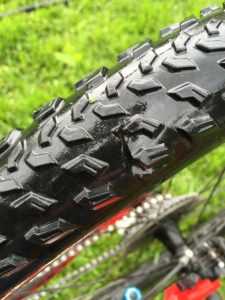 Was this huge L-shaped gash going to put us out of the race? Eric said he'd fixed a similar problem before with a dollar bill. We settled on Nancy's race bib, folded over four times, as my tire patch.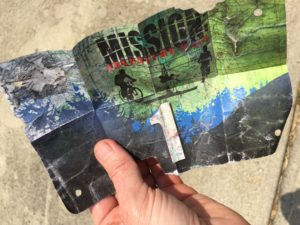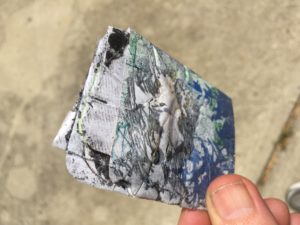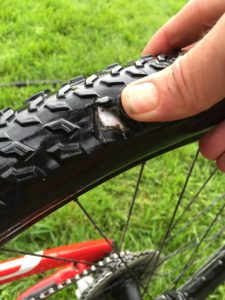 The patch worked! We rode the remaining 19 miles and completed the bike segment without any more tire problems.
Here's our bike route: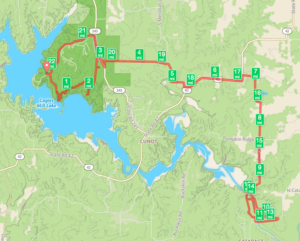 When we returned to the transition area, Brian told us we were in first place! But a team was on our heels, and there was only 70 minutes left in the race. We received the next segment map, a paddling segment. Here are the instructions: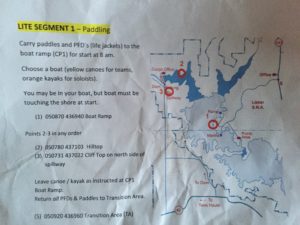 We didn't think we had time to get both controls, but we headed down to the canoes to get what we could. We paddled to the further point as it looked easier to find on the map. We headed to the hilltop and found the control. But time was short when we got back to the boat. We paddled straight back to the dock and ran to the finish line, getting back with 8 minutes to spare.
Here's our paddling route: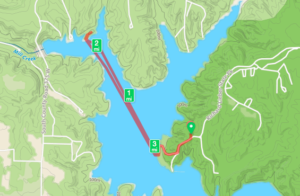 Eric's MacGuyver trick with the race bib and his excellent navigation earned Team Tenacious Glory a first place overall and first place for three person coed division.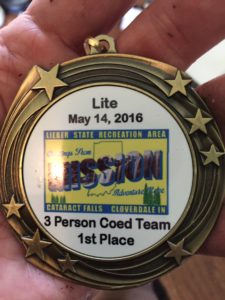 Here are the race results and final standings for all 34 teams.
Thanks to Dino Series for hosting the race and for keeping adventure racing alive in central Indiana!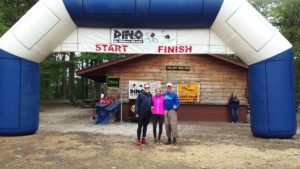 One Response to "Team Tenacious Glory Races the Mission Lite 4 Hour Adventure Race"
on 16 May 2016 at 7:55 am 1.DOROTHY GERHART said …

mY SON, STEVE, WILL BE DOING A BIKE RACE FOR CHARITY HERE FOR HOPE CANCER IN JULY. I BELIEVE I GOT THIS RIGHT.
Leave a Reply